Commercial Collection Trends
Why Outsource?
According to survey results from the Commercial Collection Agency Association and the Commercial Law League of America, the probability of full collection on a delinquent account drops dramatically with the length of delinquency. For example, even after only three months, the probability of collecting a delinquent account drops to 69.6%. After six months, the ability to collect drops to 52.1%. And after one year, the probability of ever collecting a delinquent account drops to 22.8%.
Collectability of Delinquent Commercial Debts At Time Intervals After The Due Date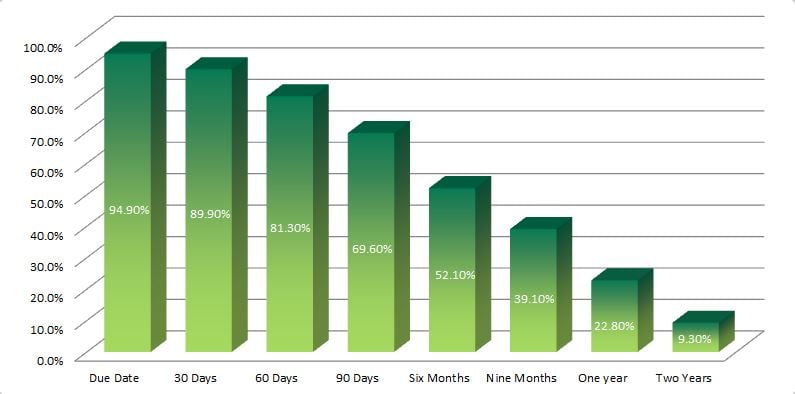 Maintain a Strong Reputation in the Marketplace.
Credit Management Company (CMC) is a nationally licensed full service accounts receivable and collection management agency that has been supporting commercial clients since 1990. Our agents average over 8 years of experience handling commercial AR and achieve account resolution in the most efficient and compliant manner. We instill understanding and ethical behavior to our agents beginning at training and keep those expectations throughout our culture.
Customer Service
CMC's customer service approach allows companies to maintain a strong reputation in the market place, and keeping existing clientele while recovering monies owed. We pride ourselves on our high retention rate which can be attributed to our outstanding recoveries, low complaints and best in class technology.
Compliance
As a fully compliant debt collection agency, we remain in strict adherence to industry regulations. CMC is an active advocate of our industry as well as maintaining memberships in many professional organizations such as the Association of Credit and Collection Professionals (ACA International). CMC is PCI compliant and also SSAE 16 SOC 2 certified.
Our Technology
Our state-of-the-art call center technologies allow us to generate best in class results. This technology, coupled with our highly trained and talented staff, enables CMC to achieve excellent results. CMC offers our commercial clients the following technology:
State-Of-The-Art Technology

Skip Tracing through
multiple vendors

Dunn & Brad
Street Reporting

Multiple Payment
Process

Remote
Client Access
---
Debt Recovery Services
Our Debt Recovery division is responsible for collecting outstanding debt and reduces the time and frustration clients spend on delinquency. Our staff is comprised of highly trained, experienced agents. We strictly abide by a code of ethics and remain in compliance with all industry guidelines and regulations.
Because industry knowledge is extremely important and impacts dollars collected, we operate separate departments to focus on industry-specific collections. Our approach is also enhanced with the utilization of state-of-the-art dialers, predictive scoring analytics, call campaigns, and a sophisticated account management system.
A combination of letters and phone contact from a third party agency, advanced skip tracing techniques, probability-to-pay scores, and credit bureau reporting assists us with the liquidation of our clients' accounts.
Our client service approach and liquidation results positions us as one of the most sought after agency in the industry. Communication is key to our business relationships and providing a 24/7 secure view of our work through any web browser exhibits our commitment.
---
Customer Care - Notification Messages
A customized message is created to relay announcements such as event reminders, emergency announcements, and changes in service.
Contact Us
We would love to hear from you so we can discuss how we would be a great partner for your business. You can reach us here!